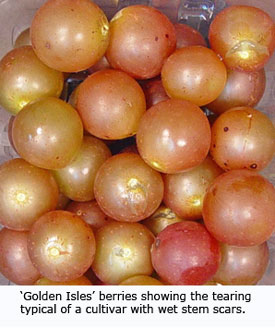 Unlike bunch grapes, muscadines are usually picked as single berries rather than in clusters.
In nature, muscadine 'Golden Isles' berries often abscise from the cluster (shatter) at maturity. Unfortunately, many cultivars tend to have stem scars that remain open in the center, or the skin tears around the scar. This is known as having a wet scar. This is deleterious as it provides an entrance into the berry for mold, and the juice can leak from the scar and get the berries sticky.
For the fresh market, it is important to have as few wet scars as possible. No cultivar is perfect, but some cultivars are better than others at producing a dry scar, and these are favored for fresh market, especially where berries will be stored for a period before the sale. We evaluate this trait by evaluating the percentage of berries with dry scars each year, with a higher percentage being better than a low percentage.