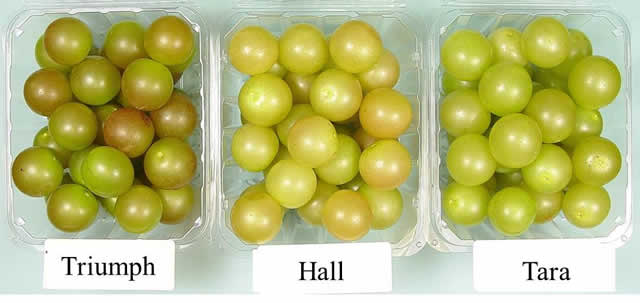 History
Hall is a new muscadine cultivar released from the University of Georgia muscadine breeding program. Hall was selected in 2004 from a cross of Fry x Tara made by Dr. Melvin Hall. Hall was selected and tested as Ga. 1-1-48 by Dr. Patrick Conner who took over the muscadine breeding program when Dr. Hall retired. Hall muscadine was observed in a selection block from 2006 to 2010 and in replicated yield trials from 2010 to 2014. Hall was released in 2014 and a U.S. plant patent was applied for later that year.
Comments
Vines of Hall are self-fertile and have good vine vigor. Total yields from Hall at Tifton and Wray Georgia were lower than Triumph and equal to or better than the other check cultivars in years 3 through 5.  In general yields appear similar to most self-fertile cultivars and better than most female cultivars.  Importantly, Hall had excellent low levels of pedicel scar split and pedicel scar tear at both locations each year, giving a higher percentage of usable berries.
Average first harvest of Hall was August 2, which was similar to the early check cultivars (Lane, Tara, and Triumph), and two weeks prior to the first harvest of the main season check cultivar, Fry (see table below).  Average percent of the total yield of the first harvest was 47%, and percent soluble solids of the first harvest was 14.9%, which was similar to the other early cultivars tested.  At maturity, the berries of Hall are round and average 10 grams in weight and 1 inch in diameter.  Berry size is similar to the other self-fertile cultivars, but smaller than the female cultivar Fry.  Skin of Hall is more friable than Fry and Triumph, but not as much so as Lane as measured by berry penetration work.  Flesh firmness is more firm than Fry, but less than Lane.  Hall berries have an excellent flavor and average 15.6% soluble solids.  Hall berries have not demonstrated the off-flavor that is common in its parent 'Tara'.  The color of Hall berries is a bright yellowish-green which is lighter and more yellow than other bronze cultivars. 
Symptoms of Pierce's disease have not been observed on Hall at any location.  Under a typical fungicide schedule, Hall was susceptible to various fruit rots including bitter rot, ripe rot, and macrophoma rot.  Infection levels varied by year and were similar to the other bronze cultivars tested.  Growers should expect to apply fungicides to control fruit rotting fungi and pick fruit promptly.  Angular leaf spot was observed during the late season at levels similar to the other cultivars tested.  Despite occasional problems with berry rot, percent usable yield and was as good or better than all check cultivars.
Hall is recommended as an early-season bronze muscadine for the fresh market.  In general, Hall is similar to its parent Tara, but has higher soluble solids content, a lighter and more yellow berry color, and unlike Tara, has not produced any off-flavors .  The cold hardiness of Hall has not been determined, but young vines have done well in Watkinsville, GA.  Hall is currently licensed for sale by Ison's Nursery.
Flower and fruit attributes of 'Hall' and standard muscadine cultivars at Tifton, GA, in years 2010-2014.
| | | | | | | |
| --- | --- | --- | --- | --- | --- | --- |
| Cultivar | Flower type | Berry color | Avg. day of first harvest | Berry weight (grams) | Berry diameter (mm) | Percent soluble solids |
| Hall | SF | Bronze | Aug. 2 | 10.3 | 26 | 15.6 |
| Lane | SF | Black | Aug. 4 | 9.2 | 25 | 15.5 |
| Tara | SF | Bronze | Aug. 5 | 10.4 | 26 | 13.5 |
| Triumph | SF | Bronze | Aug. 4 | 9.5 | 25 | 15.8 |
| Fry | F | Bronze | Aug. 18 | 12.2 | 28 | 14.5 |
SF = self-fertile (perfect), F = female.