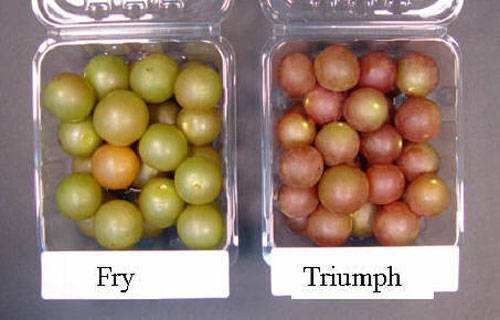 History
'Triumph' was released in 1980 by R. Lane of the University of Georgia. 'Triumph' was selected from the cross 'Fry' x Ga. 29-49.
Comments
'Triumph' was one of the better bronze self-fertile cultivars in our test. Berry size is medium large, but not as large as 'Tara'. Berry color has a definite pinkish hue, and harvest date is early. Fruit is very sweet, and was well liked by our group.
Yields were consistently high with 'Triumph'. Occasionally, fruit would shell from the vine, so picking must be prompt. In comparison to 'Tara', 'Triumph' has smaller berries, a similar early harvest date, more reddish color, and superior flavor. We recommend 'Triumph' as a bronze self-fertile cultivar in fresh fruit vineyards.
---
Average Berry Quality in Tifton, GA Trials
| | | | |
| --- | --- | --- | --- |
| Cultivar | Berry weight (g) | Berry diameter (mm) | Soluble solids (%) |
| Triumph | 9.4 | 24 | 15.8 |
| Fry | 12.7 | 27 | 15.3 |
| Supreme | 17.7 | 31 | 13.9 |
Cultivar Attributes in Tifton, GA Trials
| | | | | | | | |
| --- | --- | --- | --- | --- | --- | --- | --- |
| Cultivar | Vine vigor | Leaf disease | Berry rot | % Full crop | Harvest period | Ripening | % Dry scar |
| Triumph | high | slight | slight | 100 % | early | uneven | 60% |
| Fry | medium | slight | slight | 70% | midseason | even | 30% |
| Supreme | medium | slight | none | 90% | midseason | uneven | 60% |