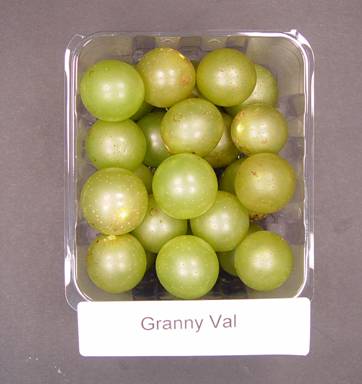 History
'Granny Val' was released and patented by Ison's Nursery in 1983. Plant patent #5823, Dec. 9, 1986. The listed pedigree is 'Fry' x 'Carlos'.
Comments
'Granny Val' was a good performer in our test and is recommended as a late maturing pollinator. Appearance and size of 'Granny Val' was good, but stem scar was mediocre.
Flavor was average at best. 'Granny Val' seldom gets real sweet, and has a sharp flavor. However, we have noted that the flavor of many muscadine cultivars tends to get sharper later in the harvest season. A problem with 'Granny Val' is that it often sets too large of a crop, resulting in berries with low sugar content. This is not uncommon among the self-fertile cultivars. There aren't many good late season cultivars, so 'Granny Val' is still recommended for this use.
---
Average Berry Quality in Tifton, GA Trials
| | | | |
| --- | --- | --- | --- |
| Cultivar | Berry weight (g) | Berry diameter (mm) | Soluble solids (%) |
| Granny Val | 11.7 | 27 | 13.3 |
| Fry | 12.7 | 27 | 15.3 |
| Supreme | 17.7 | 31 | 13.9 |
Cultivar Attributes in Tifton, GA Trials
| | | | | | | | |
| --- | --- | --- | --- | --- | --- | --- | --- |
| Cultivar | Vine vigor | Leaf disease | Berry rot | % Full crop | Harvest period | Ripening | % Dry scar |
| Granny Val | medium high | moderate | slight | 110 % | very late | uneven | 50% |
| Fry | medium | slight | slight | 70% | midseason | even | 30% |
| Supreme | medium | slight | none | 90% | midseason | uneven | 60% |