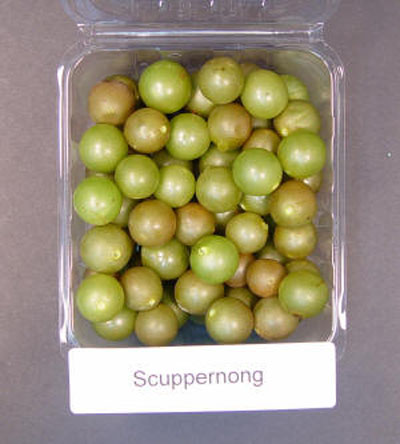 History
'Scuppernong' is the oldest muscadine cultivar. It was selected from the wild along the Scuppernong River in North Carolina. It stands out from most native muscadines in that the fruit is bronze/green rather than the normal black, and the berries are larger than those produced by most native vines.
The mother vine is planted on Roanoke Island, and is several hundred years old and still producing. Until the latter half of the 20th century, 'Scuppernong' was the leading cultivar by far. In fact, 'Scuppernong' was so popular that all bronze cultivars are called 'Scuppernongs' by many people. However, the term 'Scuppernong' should more properly be reserved for this cultivar.
Comments
'Scuppernong' has been superseded by modern cultivars which have better productivity, size, and flavor. 'Scuppernong' berries are low in sugar and have an acidic taste. A few vineyards are using 'Scuppernong' as a bronze juice cultivar, but mostly just for the novelty of the name, rather the superiority of the juice. We do not recommend planting of 'Scuppernong' in new vineyards.
---
Average Berry Quality in Tifton, GA Trials
| | | | |
| --- | --- | --- | --- |
| Cultivar | Berry weight (g) | Berry diameter (mm) | Soluble solids (%) |
| Scuppernong | 5.1 | 20 | 12.8 |
| Fry | 12.7 | 27 | 15.3 |
| Supreme | 17.7 | 31 | 13.9 |
Cultivar Attributes in Tifton, GA Trials
| | | | | | | | |
| --- | --- | --- | --- | --- | --- | --- | --- |
| Cultivar | Vine vigor | Leaf disease | Berry rot | % Full crop | Harvest period | Ripening | % Dry scar |
| Scuppernong | high | slight | none | 40 % | late | uneven | 60% |
| Fry | medium | slight | slight | 70% | midseason | even | 30% |
| Supreme | medium | slight | none | 90% | midseason | uneven | 60% |