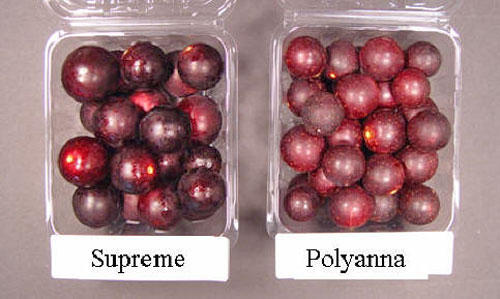 History
'Polyanna' was released in 1998 by P. Anderson, J. Mortensen, and J. Harris of the University of Florida. 'Polyanna' was selected from the cross 'Fry' x 'Southland' as a self-fertile purple cultivar with high quality.
Comments
The primary positive attributes of 'Polyanna' in our trials were excellent resistance to fruit rots and dry stem scars.
I don't like 'Polyanna' as a commercial cultivar because of its uneven ripening and late harvest date. Also, the lenticels (small white spots on the berry) are very prominent on the berries, and this is disliked by some customers. As a home vine, 'Polyanna' would be okay as a late ripening cultivar, and its disease resistance would be useful in this setting as well.
---
Average Berry Quality in Tifton, GA Trials
| | | | |
| --- | --- | --- | --- |
| Cultivar | Berry weight (g) | Berry diameter (mm) | Soluble solids (%) |
| Polyanna | 10.7 | 26 | 14.8 |
| Fry | 12.7 | 27 | 15.3 |
| Supreme | 17.7 | 31 | 13.9 |
Cultivar Attributes in Tifton, GA Trials
| | | | | | | | |
| --- | --- | --- | --- | --- | --- | --- | --- |
| Cultivar | Vine vigor | Leaf disease | Berry rot | % Full crop | Harvest period | Ripening | % Dry scar |
| Polyanna | medium/low | moderate | none | 80% | late | very uneven | 70% |
| Fry | medium | slight | slight | 70% | midseason | even | 30% |
| Supreme | medium | slight | none | 90% | midseason | uneven | 60% |