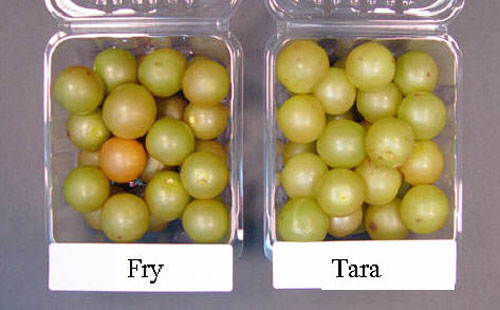 History
'Tara' was released in 1993 by R. Lane of the University of Georgia. 'Tara' was selected from the cross 'Summit' x 'Triumph'. 'Tara' was selected because of its large berries, self-fertile flowers, and disease resistance.
Comments
There is a lot to like about 'Tara'. Berry size is similar to 'Fry', which is quite large for a self-fertile cultivar, and harvest season is early. The berry color is more yellow than 'Fry', and the berries have a relatively dry stem scar. Fruit rot resistance seems to be good, and yields were high.
The only problem with 'Tara' is that at times the flavor can be "off". This problem can vary within the season, and between seasons. It is quite noticeable to some people, and not to others. All I can recommend is that a grower try a sample planting of 'Tara' to see if the quality is sufficient for their needs.
---
Average Berry Quality in Tifton, GA Trials
Cultivar
Berry
weight (g)
Berry
diameter (mm)
Soluble solids (%)
Tara
12.7
27
14.1
Fry
12.7
27
15.3
Supreme
17.7
31
13.9
Cultivar Attributes in Tifton, GA Trials
| | | | | | | | |
| --- | --- | --- | --- | --- | --- | --- | --- |
| Cultivar | Vine vigor | Leaf disease | Berry rot | % Full crop | Harvest period | Ripening | % Dry scar |
| Tara | medium | slight | slight | 90 % | early | even | 80% |
| Fry | medium | slight | slight | 70% | midseason | even | 30% |
| Supreme | medium | slight | none | 90% | midseason | uneven | 60% |